Electricians in Oceanside
At Chaney Electric, we pride ourselves on being local. We have lived in Coastal North San Diego County our entire lives and we love it here. For over 27 years we have served this community with Residential and Commercial Electrical Services.
Since we plan on living here for many, many more years to come, we know our work has to stand above the rest. If you are looking for an electrician in Oceanside, CA, we invite you to check us out – we'll be here a while!
Contact Todd Chaney at (760) 518-9830
Oceanside Residential Electrical
Service Panel Installation and Upgrades, Including Fuses to Circuit Breakers
Recessed Lighting
Battery Based Uninterruptible Power Systems for Computers and Emergency
Backup Power
Baseboard Heating
Code Violation Corrections
220V Wiring for Dryers, Stoves, HVAC, Etc.
Bath Fans, Lights and Heater Fans
Emergency Repairs
Indoor Security & Emergency Lighting
Interior Lighting Design & Consultation for Comfort & Effect
Re-Wiring for your Remodeling Projects
Outdoor Lighting Including Deck, Security and Landscape Lighting
Small Appliance, Intercom, Door Bell, Etc Installation
Electric Water Heater Wiring
Under Floor Heating for Baths, Driveway or Terrace
Aluminum Wiring Repairs using the Amp Copalum System
Solar Electric Installations
Standby Generator Installation & Maintenance
Wiring for Air Conditioners & Electric Heating (HVAC)
Basement and Attic Wiring
Switch and Receptacle Add-ons and Repairs
Ventilation Fan and Blower Installation
Ceiling Fans
Re-Wiring to meet Electrical Code Requirements
Electrical/Wiring Inspection for peace of mind for you and your family
New Home Construction Wiring
Equipment Wiring
Smoke Detector and Carbon Monoxide Detector Wiring and Installation
Telephone and Computer Internet and Network Cabling
Underground Wiring – New Installation and Locating and Repair Work
Thermostat and other Control Wiring
Smart Home Wiring
Oceanside Commercial Electrical
New Construction
Tenant Improvements
Remodels & Alterations
Main Panel & Sub Panel Installation
Fluorescent Ballast Repair
Electrical Troubleshooting
Lighting Repair & Removal (all-types)
Amp Service & Upgrades
Meter Upgrades
Fuse Boxes
Fuse Replacement
Code Violation Corrections
Rewiring/Short in System
24 Hour Emergency Service
Back Up Generators
Equipment Hook-Ups
Equipment Disconnects
Electrical PowerInternet & Phone Cabling
Intercom Speaker Systems
Motion Lights
Commercial Lights & Power Outlets
220V Plugs – Commercial Kitchens,
Warehouses & Workshops
Recessed Lighting
Showroom & Trade Show Lighting
Exterior Building Lighting
Suspended Lighting Systems
Parking Lot Lighting
Security Systems & Lighting
Closed Circuit Security Cameras
Flood Lights
Fire Alarm System Circuits
Smoke Detectors
Additional Circuits and Circuit Relocation
Oceanside, CA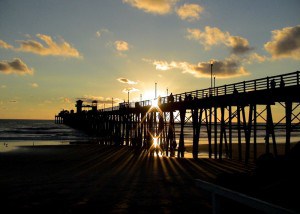 Oceanside is a coastal resort city located on California's South Coast. It is the third-largest city in San Diego County, California and 15th-largest city in Southern California. The city had a population of about 183,095 as of January 2010.Together with Carlsbad and Vista, it forms a tri-city area. Oceanside is located just south of Marine Corps Base Camp Pendleton, the busiest military base in the United States. The city has experienced dramatic growth since 1970, when its population was 45,000. Much of the city's area was developed into single-family home tracts during the 1970s and 1980s. Since the 1990s, increased commercial and industrial development have diversified Oceanside's economic base. (source – wikipedia)