Electricians in Encinitas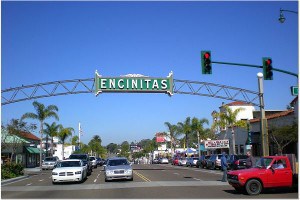 At Chaney Electric, we pride ourselves on being local. We have lived in Coastal North San Diego County our entire lives and we love it here. For over 27 years we have served the Encinitas area and surrounding communities with professional electrical repair and installation service for Residential and Commercial.
Since we plan on living here for many, many more years to come, we know our work has to stand above the rest. If you are looking or an electrician in Encinitas, CA, we invite you to check us out – we'll be here a while.
Contact Todd Chaney at (760) 518-9830
Residential Electrical Services
Service Panel Installation and Upgrades, Including Fuses to Circuit Breakers
Recessed Lighting
Battery Based Uninterruptible Power Systems for Computers and Emergency
Backup Power
Baseboard Heating
Code Violation Corrections
220V Wiring for Dryers, Stoves, HVAC, Etc.
Bath Fans, Lights and Heater Fans
Emergency Repairs
Indoor Security & Emergency Lighting
Interior Lighting Design & Consultation for Comfort & Effect
Re-Wiring for your Remodeling Projects
Outdoor Lighting Including Deck, Security and Landscape Lighting
Small Appliance, Intercom, Door Bell, Etc Installation
Electric Water Heater Wiring
Under Floor Heating for Baths, Driveway or Terrace
Aluminum Wiring Repairs using the Amp Copalum System
Solar Electric Installations
Standby Generator Installation & Maintenance
Wiring for Air Conditioners & Electric Heating (HVAC)
Basement and Attic Wiring
Switch and Receptacle Add-ons and Repairs
Ventilation Fan and Blower Installation
Ceiling Fans
Re-Wiring to meet Electrical Code Requirements
Electrical/Wiring Inspection for peace of mind for you and your family
New Home Construction Wiring
Equipment Wiring
Smoke Detector and Carbon Monoxide Detector Wiring and Installation
Telephone and Computer Internet and Network Cabling
Underground Wiring – New Installation and Locating and Repair Work
Thermostat and other Control Wiring
Smart Home Wiring
Commercial Electrical Services
New Construction
Tenant Improvements
Remodels & Alterations
Main Panel & Sub Panel Installation
Fluorescent Ballast Repair
Electrical Troubleshooting
Lighting Repair & Removal (all-types)
Amp Service & Upgrades
Meter Upgrades
Fuse Boxes & Replacement
Code Violation Corrections
Rewiring/Short in System
24 Hour Emergency Service
Back Up Generators
Equipment Hook-Ups
Equipment Disconnects
Electrical PowerInternet & Phone Cabling
Warehouses & Workshops
Showroom Lighting
Exterior Building Lighting
Suspended Lighting Systems
Parking Lot Lighting
Security Systems & Lighting
Closed Circuit Security Cameras
Flood Lights
Fire Alarm System Circuits
Smoke Detectors
Additional Circuits and Circuit Relocation
Some More Information About Encinitas, CA
Encinitas is a coastal beach city in North County, San Diego County, California. As of the 2000 census, the city had a total population of 58,014. It is located about 25 miles (40 km) north of San Diego, and about 95 miles (153 km) south of Los Angeles.
The city was incorporated in 1986 from the communities of historic Encinitas, new Encinitas (Village Park, etc.), Leucadia, Cardiff-by-the-Sea and Olivenhain. These communities retain their identities and their distinctive flavors.
The largest single industry is the growing of ornamental flowers, particularly poinsettias.(source – wikipedia)
Chaney Electric on Channel 7 News