Light, Fan and Dimmer Switches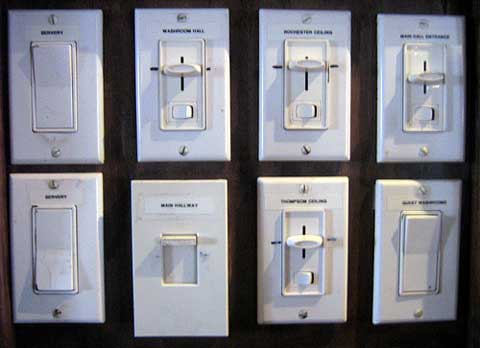 Gone are the days of limited choices in light switches. Technology, demand for choice and designer colors now dominate the electrical switch marketplace. Home owners almost have too many choices. The kind of choices that keep you in the lighting department trying to decide if the burgundy switch plate cover matches your paint and curtains better than the deep maroon.
When your choice of light switches and cover plates is finalized, Chaney Electric will be happy to turn form into function. Our award-winning electrical service is offered to all of our enthisiastic decorators in Carlsbad, Oceanside, Encinitas, and all of North County San Diego.
Wall mounted dimmer control switches, fan speed controls including infrared remote-controlled devices like ceiling fans, curtains and lighting fixtures are what we do as professional and licensed electricians.
Electrical Circuit Breakers
Circuit breakers serve two purposes. One purpose is to allow electricity to flow through a circuit and reach the things that require the power to operate. The second purpose is to stop the flow of electricity through the circuit it controls. What else do you need to know? Here are a few items…
Arc Fault Circuit Interrupter (AFCI) breakers monitor the circuit for "arcs" in the line. Read more…
To reset a circuit breaker, push to "off" position and then back to "on" firmly. It will not reset if you flick it
See FAQs for related circuit breaker information…